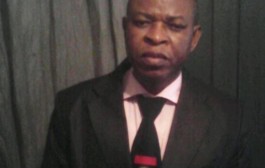 THE POSITION OF THE CUSTOMARY GOVERNMENT OF INDIGENOUS PEOPLE OF BIAFRA CG-IPOB, ON RESTRUCTURING OF NIGERIA FEDERATION
For sometime now since the agitation for the restoration of free state of Biafra took center stage, various shades of opinion have emerged on the best way to resolve Nigeria problem. Amongst these is the call for restructuring of Nigerian federation into regions, with regional governments  presiding the affairs of their regions.
it can be recalled that the founding fathers of Nigeria, after considering various types of structure of nation-state opted for regional structure in recognition of the various distinctive regional attributes of our people. Their decision to settle for regional arrangement might not be unconnected with our different inalienable right of existence.
in settling for regional structure, they made the first mistake when they refused to include the fuselage of exit clause by any region if it so desires. Its the absence of this exit clause that plunged Nigeria into 30 months of bitter civil war, when the people of the eastern region felt the need to exit the federation. That war was fought with a lot of bitterness that still leaves so much sour taste on our bruised memories.
Shortly before the end of that war, the federal Government, in attempt to crouch the seceding eastern region introduced series of measures that were aimed at breaking the backbone of seceding Biafra. Amongst these measures included the divide-and-rule policy that saw brothers hating and rejecting brothers. The creation of Rivers and southeast state with campaign of calumny targeted against Igbo and their neighbors from Eastern region has been a big stumbling block to their good neighborliness since the end of the war.
this terrible scenario has seen brothers at loggerhead with their brothers, to the extent of denial of one's prestigious rightful heritage and lineage. in the face of the present reality therefore, the Customary Government of Indigenous people of Biafra hereby state that it can only support restructuring of Nigerian federation that will   correct the above mentioned deformity. consequently, the Customary Government will alien itself with restructuring that allows the people of Southeast and south south zones opportunity to vote in the referendum whether to stay together in one region or in separate regions.
Customary Government of Biafra will alien itself with arrangement that accommodates the exit clause of self determination through referendum for any region if so desires. We have to make it abundantly clear that its not the idea of the Customary Government to engage in any solution of Nigerian problem that will in future present her children to avoidable deaths and other discomforts.
The choice to co-habit cannot be at gunpoint. The lives of Biafran people should not be used repeatedly to appease the gods of One Nigeria. This is the view reflecting the opinion of the Customary Government of Indigenous People of Biafra.
Thanks.
Sign: Engr. Aniebue Anthony
Administrator CG-IPOB