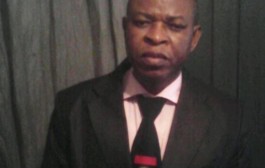 CG-IPOB embarks on massive job creation
11/10/2017
Press Release
In furtherance of the Customary Government of indigenous people of Biafra determination to build a responsible and people oriented De Facto Government and in line with the Nigeria legal system ,the under listed positions are hereby advertised for immediate engagement;
1.Director for Finance
2.Director,Mobilization and Public Orientation
3.Head,Dispute Resolution Commission
4.Administrative Secretary,Peoples' Parliament
5.Secretary to the Customary Government
6.Head,Biafra Referendum Commission.
7.Deputy Director,Religious Affairs
8.Deputy Director,Political and Economic Matters
9.Director for Transport.
10.Information Officers to work under the Directorate of Information
11.Country Representatives.
More positions will be advertised in the days to come.Meanwhile ,those who wish to volunteer their services under various departments/Units as listed above are also requested to forward their applications.
Interested applicants are advised to address their application letters to The Administrator,Customary Govt of the Indigenous People of Biafra and forward through cgipob@gmail.com for consideration .Note that applicants are expected to visit www.ipobgovernment.org for registration as Biafrans.For now,services are on volunteer basis but arrangements are at final stage to pay competitive salaries to all the Officers of the Customary Govt on full employment basis.
It is also important to observe that we are Biafrans by indigenous identities but Nigerians by citizenship,however we must prove to the general public that we are governable and can manage ourselves before anybody could take us serious.
You can call the Administrator via 08038072613 for further enquires.
Thank you.
Ndubuisi Anaenugwu
Director- Directorate of Information, CG-IPOB